AeroComm is the complete solution for trusted mobile communications, providing secure, real-time messaging, voice/conference calling, all protected by strong, authenticated, end-to-end encryption. With advanced encryption technology, your phone calls and chat messages are private.
AeroComm is a standard-based mobile VoIP softphone that works over 3G, 4G/LTE and Wi-Fi networks. AeroComm's satellite network -friendly special audio codec algorithm and intelligent network quality sensing capability ensures superb sound quality in a smooth call experience through low bandwidth channels. We prioritize security and reliability, and generate graphical live call statistics to guarantee timely and excellent customer support.
White Labeled
90
%
BizJet Service Provider
_
COMPATIBLE SATCOM ROUTER MANUFACTUER
_

Stitel Patented Audio Codec: iSVC – VoIP at 2.4Kbps
Integrated with Native Dialer/Contacts/History for both iOS and Android Phones. User don't need to open AeroComm App for making and receiving calls.
Compatible with iPhone and Android Phones.
Any firewall-friendly including VoIP blocked network.
AeroComm's Security specification is compliant with the Government security standards such as NSA Suite Cryptography, NIST and FIPS.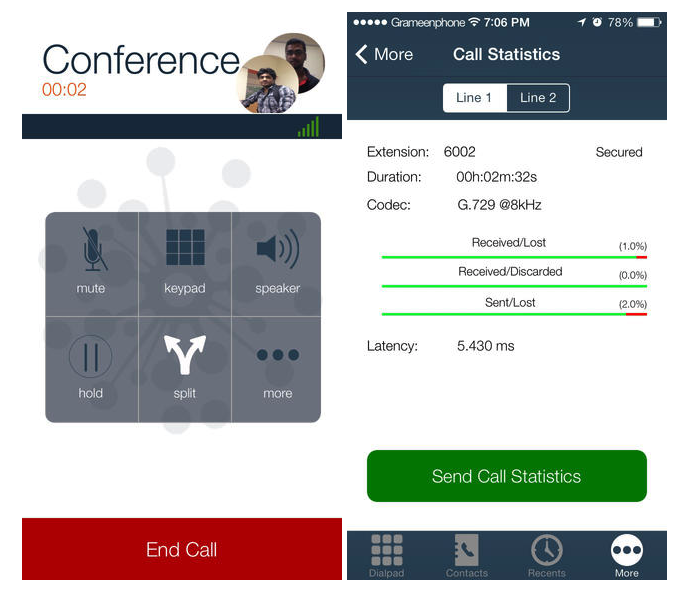 _
COMPATIBLE AVIATION NETWORK
_

Why choose

AeroComm App

 ?
• AeroComm really understands customer's privacy. That's why AeroComm puts all of the control into customer's hand. AeroComm provides privacy settings so that you can choose to block or unblock contacts at anytime.
• AeroComm provides a "burn" timer to automatically delete messages and pictures after they have been read.
• No one can sabotage or use your account on AeroComm, you can choose either to use a password or Finger Touch ID to protect your account.
• Option to secure phone books / call & message history
• Super strong, OTR cryptographic protocol for messaging conversations.
• Messages are only readable by you and your contact. A new key is used to secure each message.
• Signaling works over High Latency Network (up to ~60Sec delay).
• Advanced Call & Messaging Features.
• Multiple call support – swap between two active calls, merge and split calls, transfer calls (attended and unattended).
• DTMF Support: RFC 2833/4733, INBAND and INFO.
• Multimedia messaging options, file transfer and group chat.
• Packet Loss Concealment & Adaptive Jitter Buffer. • Noise & Silence Suppression.
• Automatic codec selection to ensure optimal call quality.
• Auto NAT type detection and NAT Traversal using STUN, TURN and ICE.
• HD Wideband audio through G.722 codec.
• Audio Codec Includes G.711 A/U, G.729, GSM,iLBC, Speex, OPUS and iSVC.
HIGH-LEVEL
Benefits of

AeroComm

 ?
Using the device's existing contact list, AeroComm facilitates easy and effective communication management with an intuitive interface.
Multi-tasking support for background operation, such as receive incoming calls while using other applications.
Advanced network quality detection for VoIP calls and live graphical statistics for individual call line.
End-to-end standards-based key establishment providing mutual authentication, Perfect Forward Secrecy (PFS) and unique keys per-session
Encryption key and algorithm is established at call setup and destroyed as soon as call is terminated.
It allows the detection of man-in-the-middle (MiTM) attacks by displaying a short authentication string for the users to verbally compare over the phone.
It also does not rely on SIP signaling for the key management, and in fact does not rely on any servers at all. It performs its key agreements and key management in a purely peer-to-peer manner over the RTP packet stream.